W. C. HANDY MUSIC FESTIVAL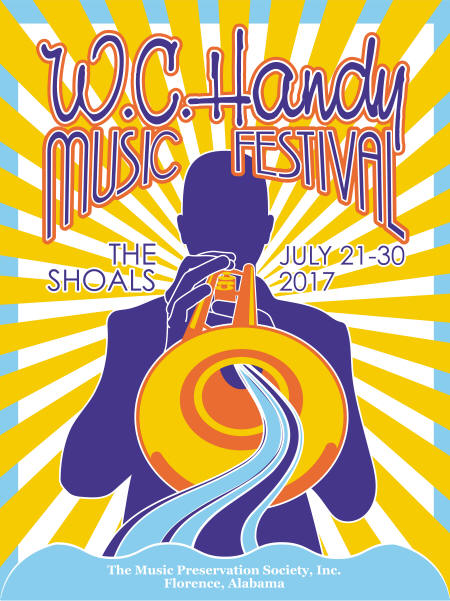 The Music Preservation Society, Inc.
presents the 36th annual
W.C. Handy Music Festival
in honor of
Florence (the Shoals), Alabama's
W.C. HANDY
Composer, Publisher, Musician, and
"FATHER OF THE BLUES"
July 21 – 30, 2017
William Christopher ("W.C.") Handy, known to the world as the "Father of the Blues", was born in Florence, Alabama, on November 16, 1873, where the sounds he heard influenced and inspired him to create an enduring body of music and garnered him international acclaim. His hometown is proud to claim him as a native son and continues to celebrate his genius. Handy left an indelible impression, not only on the other cities where he lived such as Memphis, TN, and New York, NY, but also on the international music scene. Many musicians through the years have credited Handy's influence as their inspiration. The world lost Mr. Handy in 1958, but his family continues his legacy through Handy Brothers Music in New York. As always, the Music Preservation Society extends its sincere appreciation to the family of William Christopher Handy for its continued support of and participation in the W.C. Handy Music Festival. We are honored to have the privilege to celebrate Mr. Handy's life and the musical gifts that he left for us all.
More info : http://www.wchandymusicfestival.org/festival.htm