Florence Bacon Fest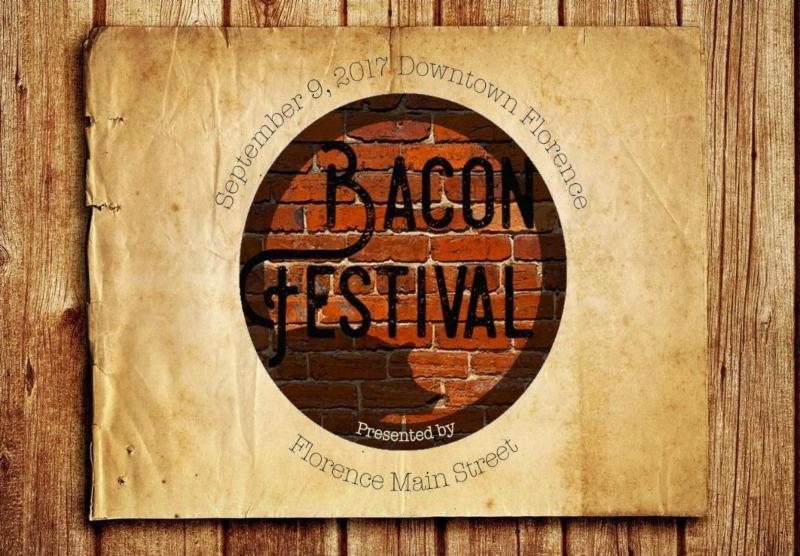 Florence Bacon Fest
September 9 @ 8:00 am – 6:00 pm
Get ready bacon lovers and mark your calendars now! Florence Main Street is bringing the Bacon Fest to downtown Florence this fall!
This day full of Bacon, Brews, Music and Fun will include several events.
The .5k Pig and Swig Fun Run
Registration – 8:00am ~ Run Begins – 8:30am
Each runner must swig and eat 2 pieces of bacon at the start and the half way point.
Each runner will receive a participation medal.
Cash prize awarded for best costume.
registration forms will be available online August 11th.
The Downtown Bacon Crawl
10:00am – 2:00pm
Participating merchants will have samples of all types of bacon treats for ticket holders to enjoy while they shop hop through downtown.
Ticket sales for the Bacon Crawl will begin August 11th.
Tickets are $10 at the office and $11 online.
Tickets will only be sold IN ADVANCE (no day of tickets will be available). Limited number of tickets available.
Alabama Craft Beer Festival
1:00pm – 5:00pm
Penny Beer Garden 2017 – Sample the best beers brewed in the state of Alabama as well as visit with the brewers themselves.
For more information about this event and to purchase tickets, now on sale, visit their webpage at https://alabamacraftbeerfestival.com/
The BBQ Block Battle
BBQ Cook-Off
Judging begin at 2:00pm.
Tickets for BBQ Block Battle Tasting will be available for purchase
the day of the event at 3:00pm. Tickets are $10 Limited number of tickets available.
Downtown Block Party
Live Music Downtown through out the afternoon and evening.
Be sure to follow this event for updates and exciting new things added to the event as our planning progresses. We're so excited!
More infohttp://www.florencemainstreet.org/event/florence-bacon-fest/